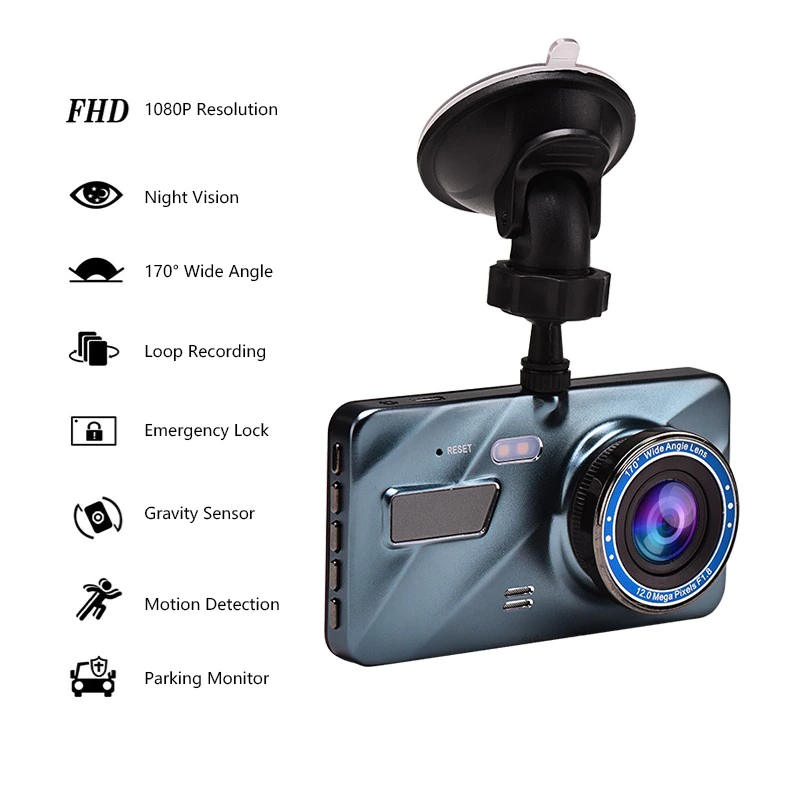 3 Inch FHD Dash Camera – 3″ large LCD Screen and 1080P front lens, capture the roads simultaneously in super clear definition. Equipped with 170° wide angle for front cameras monitors all directions without visual blind zone.
Superior Sony Night Vision – Our car camera dash cam combined with F1.8 large aperture, HDR and WDR technology, which can capture clear road conditions, license plates details even in low-light environments. Any trouble with image exposure and low-light can be solved. Make night shooting clearer and driving safer at night.
A complete set of tools makes it easy to use!

Specification :

· Screen : 3.6 inch LCD Display
· Lens Angle: 170° Wide
· Lens Aperture: F1.8 aperture
· Video format: AVI
· Internal Power: 200mA, built-in
· External power supply : DC 5V/1.5A
· Operating Temperature:32°F(0°C)~140°F(60°C)
· Storage : Micro SD Card 32GB (NOT included)

Whats in the Box:

1 x car DVR
1 x car charger
1 x user manual
1 x bracket
·1 x User Manual Other necessary accessories
Excellent FHD Video Quality

A28 dash cam features a high-end video processor that records at 1080P Full HD resolution for the front cam. It provides detailed evidence of accidents or to prevent insurance fraud.

Super Night Vision Car Dash Cam

With combination of F1.8 large aperture, HDR Tech and advance night vision sensor, this Car Dash Camera provides a full high-quality videos under low-light conditions. The safety of driving at night will be improved a lot.

Loop Recording Dash Cam

With loop recording enabled, users will have the option to record
videos in loops of 1 / 2 / 3 minute(default) video files, and record it on the TF card until the space is exhausted. Then, the oldest file will be automatically overwritten. But, corresponding to gravity sensing, motion detection, parking monitoring or emergency files can not be automatically overwritten.
G-sensor Protection

With built-in G-sensor, this dash camera for cars front and rear will automatically recording when detect a sudden shake/collision and lock the footage to prevent the video from being overwritten even in loop recording. Accident scene can be truly restored, then you can stay away from the liar and loss.

24 Hours Parking Monitor

The dash cam camera includes Motion Detection and Parking Monitor. It automatically record and lock videos when detects a sudden shake/collision, which protects your car from being scratched or stolen.

Motion Detection & Anti-theft

When in standby, turn on motion detection and Parking Monitor. Dash cam will detect whether there is the moving object, and the recording will be auto on if it finds a moving object. Record some important evidence to make your car safer.