Welcome to the age of digital transformation, where traditional business phone systems are giving way to advanced cloud-based phone services. In the corporate world, communication isn't just key—it's the lock, the door, and the entire building.
Importance of Quality Business Phone Services
A business phone system isn't just about making and receiving calls anymore; it's an indispensable tool that supports e-commerce, customer relationship management, internal team collaboration, and more.
Here's why quality is crucial:
Reliability – Nothing slows down business like a missed or dropped call.
Scalability – If your company grows, your phone system should easily grow.
Integration – A great phone system gels well with other software in your company.
The Rise of Demand for Business Phone Services
The year 2021 has seen a meteoric rise in the demand for VoIP and other business phone services. This uptick can be attributed to the acceleration of remote work culture and the need for efficient and reliable enterprise communication. As business structures become more complex and remote, the traditional phone lines can't keep up!
Overview of Business Phone Services
Business phone services are comprehensive communication solutions crafted specifically to meet the needs of businesses of varying sizes. From startups to large enterprises, these services provide features that far exceed what typical landline and mobile networks offer. Key features usually include multiple lines, auto attendants, the ability to direct calls to different departments seamlessly, and robust call tracking and analytics to help you understand your communication strategy better.
Transition to VoIP and Cloud-Based Services
In recent years, businesses have been making the switch from traditional landline setups to more modern systems like VoIP and cloud-based phone services. Why? Well, these tech marvels offer massive advantages such as cost efficiency, extensive feature sets, increased flexibility, and superior scalability.
Not to mention, they enable employees to work remotely without compromising on communication quality or productivity. This shift is becoming more evident, positioning VoIP and cloud-based services steadily on the rise as the gold standard for enterprise communication.
Factors to Consider When Choosing a Business Phone Service
When selecting a business phone service, there are essential factors to consider that can significantly impact the efficiency of your business operations and communication.
Flexibility and Scalability
First off, you need a communication solution that is both flexible and scalable. Businesses evolve over time, and so do their communication needs. Your chosen solution should have the capability to scale up or scale down based on your requirements. Additionally, it should also offer the flexibility of usage across multiple devices, including mobile, to ensure seamless communication.
Feature-rich Services
Another crucial factor is the range of features. Look for services that offer more than just basic calling. Features like video conferencing, call forwarding, interactive voice response (IVR), and call routing are increasingly becoming a norm. A VoIP or cloud-based phone service with these capabilities can significantly enhance your enterprise communication experience.
Cost and Value for Money
Lastly, consider the cost and value for money. While it is true that more features generally come at a higher price, it is essential not to overlook the value they bring to your business. Assess if the benefits and efficiencies garnered from these feature-rich services justify the costs involved. After all, a strategic investment in a quality business phone service can yield significant dividends down the line.
Top Five Business Phone Services of 2021
Without further ado, let's plunge into the main content and examine the top business phone services carving a niche for themselves in 2021:
RingCentral
Nextiva
8×8 X Series
Vonage Business Cloud
Mitel Communications
Summary of All Top Five Business Phone Services
Each of these heavy hitters in the telecommunication realm brings unique features and benefits to the table. From exceptional VoIP capabilities to versatile cloud-based phone services, they can help enhance enterprise communication in numerous ways. They stand out for their unique integration abilities, consistent reliability, and superior user interfaces, making them easy to use, navigate, and manage.
Individual Review of Each Service
Stay tuned; in the next sections, we'll delve into each of these top-tier business phone system providers, looking at what makes them unique, their features, pricing, and why they're a solid choice for businesses in 2021.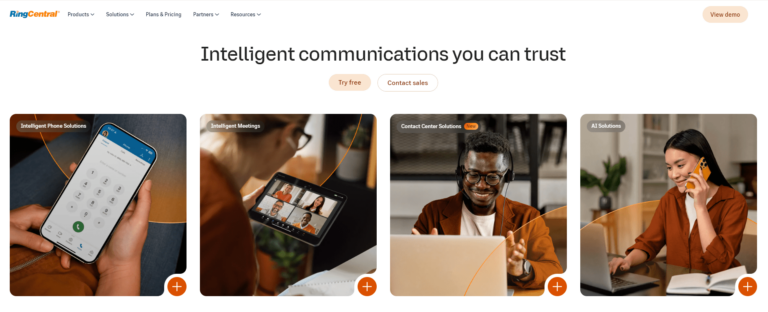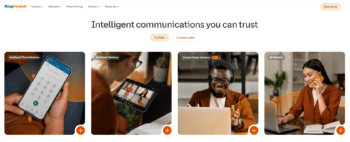 Overview and Unique Features of RingCentral
RingCentral leads the pack as one of the most commendable business phone services. This VoIP provider scores high for its commitment to handing out a cloud-based phone service mixed in with plenty of enterprise features. Among the many unique features of RingCentral are:
A mobile app for iOS and Android devices, allowing users to make calls anywhere.
A comprehensive integration with a swath of popular work tools like Salesforce and Microsoft 365.
An intuitive user interface that simplifies communication.
Benefits and Potential Drawbacks of RingCentral
With RingCentral, businesses can enjoy a seamless and intuitive communication experience. Its user-friendly interface means fewer headaches during setup and usage. However, it may pose a drawback for small businesses due to its pricing, as RingCentral's impressive features and services come with a steeper price tag compared to some other providers.
Service 2: Ooma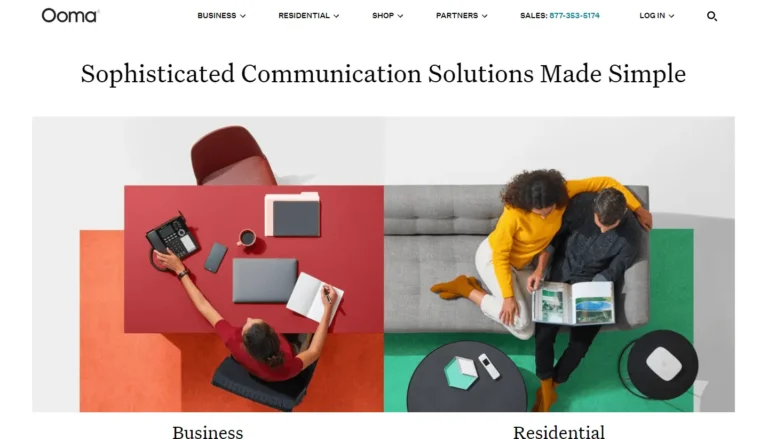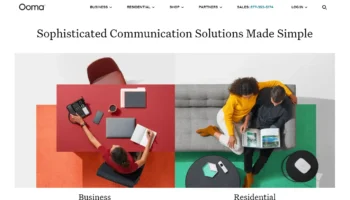 Curious about Ooma? It's a Voice over Internet Protocol (VoIP) phone service that delivers crystal-clear calls, all while costing a fraction of traditional phone lines. With Ooma, you can trust that your phone service will remain dependable and budget-friendly.
One standout feature of Ooma is its mobile app. The Ooma mobile app lets you carry your phone service wherever life takes you. Whether you're on a business trip, visiting loved ones, or running errands, you'll never miss a crucial call again. This app enables you to make and receive calls using your Ooma phone number, essentially putting a portable phone system in your pocket.
Ooma doesn't just save you money; it also offers a wide array of features tailored to your specific needs. From call waiting and voicemail to call blocking and virtual receptionist services, Ooma has your back. You can seamlessly customize your phone service to match your business or residential requirements.
So, why wait any longer? Bid farewell to those pricey phone bills and say hello to Ooma. It's high time you took charge of your phone service and started enjoying the perks of dependable and cost-effective communication. Give Ooma a try today and see the difference for yourself.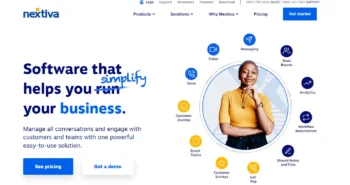 Overview and Unique Features of Nextiva
Nextiva is a leading VoIP service designed explicitly for commercial use. Utilized by businesses large and small, it embraces the future with an impressive degree of flexibility—a key trait of top-tier cloud-based phone services. Nextiva offers features like virtual faxing, automated greetings, voicemail-to-email service, and an advanced call-routing system.
Furthermore, Nextiva's integrated suite of communication and collaboration tools, including video conferencing, team messaging, and customer relationship management applications, sets them apart from the crowd.
Benefits and Potential Drawbacks of Nextiva.
Nextiva stands out due to its user-friendly nature and robust, feature-rich platform. However, while Nextiva provides excellent customer service, some users have reported experiences of less-than-ideal response times. Additionally, while they offer an incredibly comprehensive package, small firms or startups might find Nextiva's advanced features more than they need, making it a potentially costly choice for small or simpler operations.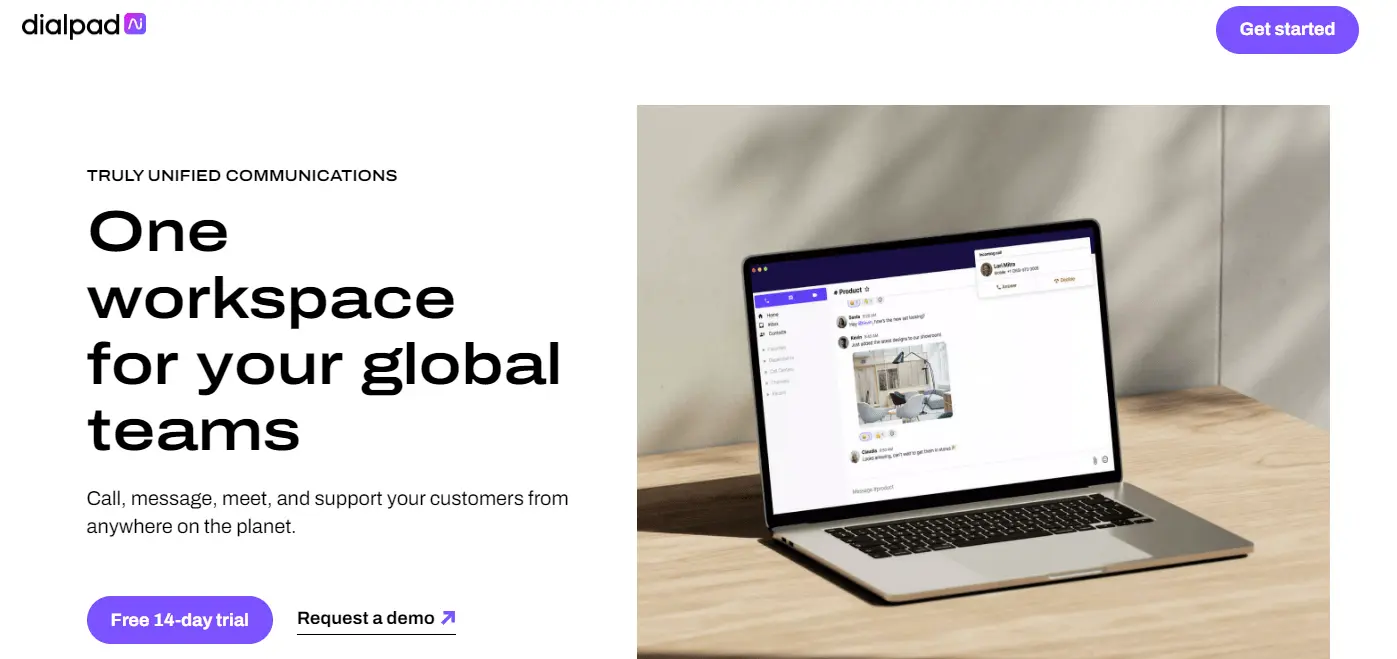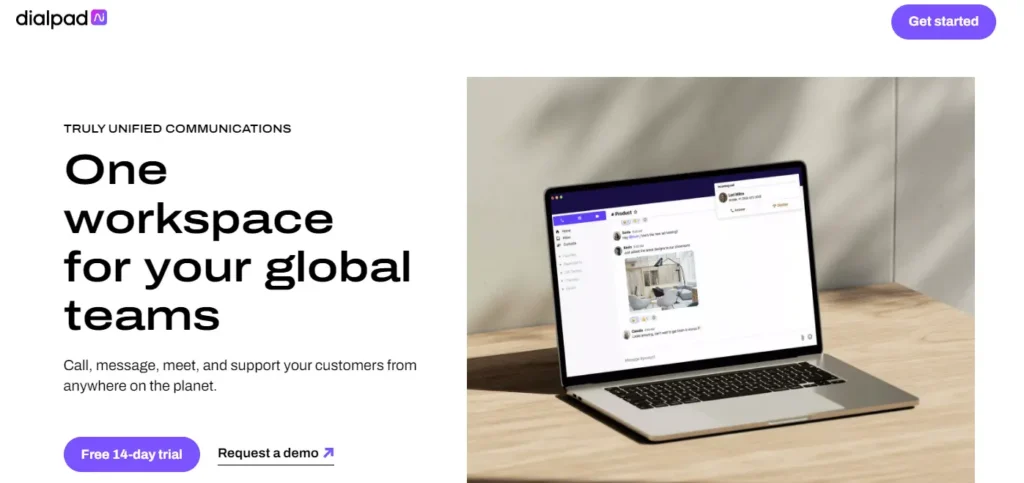 In today's lightning-fast world of telecommunications, effective business communication stands as the cornerstone of success. In this digital era, the choice of tools can be a game-changer. This is precisely where Dialpad steps in.
Dialpad is a state-of-the-art communication platform that offers a plethora of features meticulously crafted to enhance and streamline business communication. Let's delve deeper into what it brings to the forefront.
First and foremost, the Dialpad interface is not just sleek but also remarkably intuitive, making it a breeze to navigate. Whether you're a tech-savvy professional or someone looking for simplicity in complex systems, Dialpad's interface ensures a quick and smooth setup.
But Dialpad doesn't stop at aesthetics. It offers a diverse range of features poised to revolutionize your communication approach. From voice calls to seamless video conferencing, and instant messaging to efficient team collaboration, Dialpad covers it all. Moreover, its seamless integration with other essential business tools like CRMs and help desk software ensures a seamless workflow.
Let's talk about the advantages. With Dialpad, you'll revel in crystal-clear HD audio and video quality, ensuring that every interaction maintains a professional and engaging tone. What's more, its cloud-based infrastructure grants you access to Dialpad from anywhere, simplifying remote work. And, of course, there are substantial cost savings – Dialpad eliminates the need for expensive phone lines, offering your budget some well-deserved relief.
Dialpad is a transformative force in the realm of business communication. Its user-friendly interface, extensive feature set, and impressive benefits make it an indispensable tool for telecommunication professionals. So, why wait? Experience the power of Dialpad today and elevate your business communication to unparalleled heights.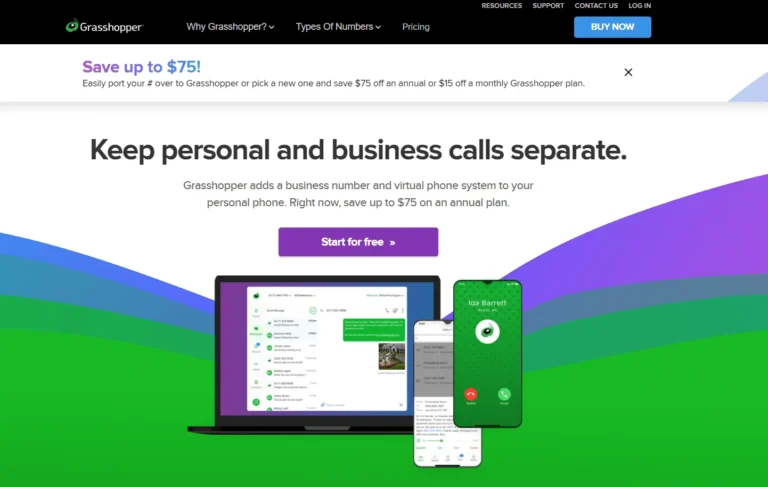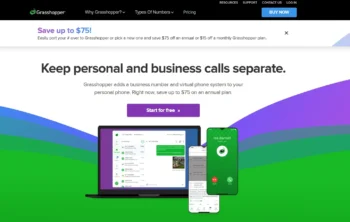 Overview and Unique Features of Grasshopper
Grasshopper is a cloud-based phone service primarily designed for small businesses but scales well for enterprises. Known for its user-friendly setup and approachable design, it stands out in the market with its simplicity. Unique features include:
Virtual faxing eliminates the need for physical fax machines.
Customized greetings that lend each business an added touch of professionalism.
An intuitive mobile app allowing you to make business calls from personal phones while still displaying your business number.
Benefits and Potential Drawbacks of Grasshopper
The major benefits of Grasshopper are its affordable pricing and ease of use – making it highly popular among startups and small-scale businesses. However, its potential drawbacks include the lack of some advanced features like video conferencing and team messaging that some of its competitors provide in their enterprise packages.
Recap of Top Five Business Phone Services
To wrap things up, here's a quick rundown of our top 5 business phone services:
RingCentral: Known for its robust functionalities and seamless integration with popular business tools.
Nextiva: Remarkable for its advanced analytics and impressive customer support.
Ooma Office: Lauded for its easy-to-use platform and competitive pricing.
Vonage: Noteworthy for its top-notch VoIP and unified communications.
8×8: Celebrated for its cloud-based phone services and innovative interface.
Final Thoughts and Suggestions for Choosing a Business Phone Service
At the end of the day, the best business phone service depends on your company's unique needs. Flexibility, scalability, and ease of use seem to be the recurring themes among these top services. So, whether you're a small business or a large corporation, prioritizing these features can help boost productivity and create seamless enterprise communication. Choose wisely and watch your business thrive in the bustling digital space.